The Ultimate Bridal Primping Playlist
Duchess Catherine (formerly Kate Middleton) may have just topped Vanity Fair's best-dressed list, but I am way more obsessed with her beauty moves. This week the Duchess wowed me yet again with a rare updo, which I think may be the most perfect bridal inspiration of 2012. Elegant, simple, and ideal for a slew of gown types -- I had to get the scoop on how to achieve the style.

So I chatted with celebrity hairstylist David Babaii (his clients inclu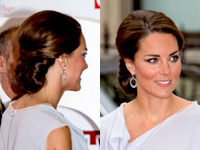 de Angelina Jolie, Kate Hudson, and Scarlet Johansson) and got the exact instructions for replicating the flawless look. Check out his step-by-step below:

Step 1: After cleansing, conditioning, and applying a mousse, blow dry your hair with a large round brush at your roots to add lift. Change to a large paddle brush to smooth the rest of your hair straight.

Step 2: Make a side part and separate the sides and clip away temporarily.

Step 3: Divide the back of your hair gently into three sections. Take the middle section and twist it into a circular bun and secure it with bobby pins.

Step 4: Take the right section and softly twist it and wrap it to the left, around the bun and secure it with bobby pins. Then, take the left section and wrap it to the right over the bun and secure it with pins.

Step 5: Take the right side you clipped earlier and spray with hairspray before gently smoothing and bring it towards the back, tucking the ends underneath the back wrapped section and secure with pins. Repeat the same with the left side but have it cross over the right section. To finish, lightly spray with hairspray.